I love Cubs fans. Say what you will about their fickle flightiness, but what other team's fans start making World Series championship claims before the playoffs have even begun? Cubs fans have season aspirations higher than Alfonso
Soriano's
paycheck, even though they are oft accused of drinking the "this year is the year"
Kool
-aid too fervently.
Great art is sometimes born out of frustration, and the
Cubbie's
100-year drought serves as perfect fodder for musicians. Hopefully artists have some positive inspiration after this week's events. After Lee helped push the Milwaukee Brewers further back in the division during the 12-inning showdown yesterday, the Cubs stand a chance to clinch the division (for the second year in a row!) if they beat the Cardinals today, and if the Brewers lose.
Derrick Lee, 1st baseman for the Cubs,

1st place in my heart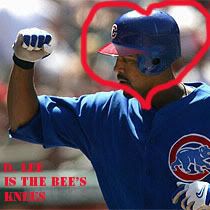 Thankfully, I have two songs to listen to depending on the outcome of the season.
If the Cubs do well, I will listen to Eddie
Vedder's
wistful "Go All the Way," which he wrote per Ernie Bank's request.
Vedder's
narcissism aside, that's pretty cool he listened to Bank's request and created this sing-along.
Vedder's
pretentiousness still seeps through in that he wants to release a recorded version of this song on "
souvenir
45's." Can something be a
souvenir
before a historic event has happened? I guess if he says so.
If the Cubs lose, being a typical fan, I will blame it on some outside, probably mystical force, and then listen to The Mountain Goats' melancholy and sarcastic "Cubs in Five."
Though I much prefer the Goats' song to
Vedder's
, I hope to be singing "Go, Cubs, Go" followed by "Go All the Way" in October.